Yay! It's that time again mamas!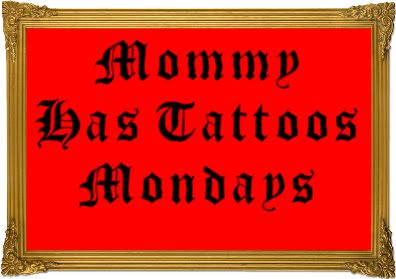 I actually think I met Deanna back toward the end of my live journal days and I am thrilled that she is participating! I'm also very happy she volunteered to show everyone that you don't have to be a heavily tattooed mommy to be featured.All art is beautiful and I want to connect with everyone! I totally connect with Deanna's mom refusing to acknowledge her tattoos, (as my mom does the same thing),as well as her living in the bible belt and people being somewhat rude about a lady with skin art. But enough about me,on to the interview!
Hi! I'm Deanna from
Delirious Rhapsody
I started my blog when I was pregnant with my second son, mostly as a way to keep in touch with my mother in law who lives across the country, and it just took off from there. I'm married to my wonderful husband, Peppy, and a stay at home mom of two little boys, Gage who will be 4 in July, and Owsley who is 4 months. I definitely find humor in parenting, and a lot of what I blog about are the funny happenings in my life.
# of children and names: 2, Gage Hendrix and Owsley Duncan
blog:
Delirious Rhapsody
1. What do your children have to say about your tattoos?
Owsley is still too young to understand what they are, but Gage has been interested in them as long as I can remember. When he was around a year old he would run up to me with markers and want me to draw stars and cars on his chest and arms. Now he tells me that he wants tattoos when he is bigger. So I'm assuming he likes them. :)
2
. Since we're on the subject of moms and tattoos, what does your mom have to say about your tattoos?
My mom hates tattoos. I come from a very religious upbringing, as well as live in the heart of the bible belt. To some people around here, tattoos are still taboo. In her mind, having tattoos is destroying the Lord's temple. My mom knows that I have tattoos, but she just refuses to acknowledge them.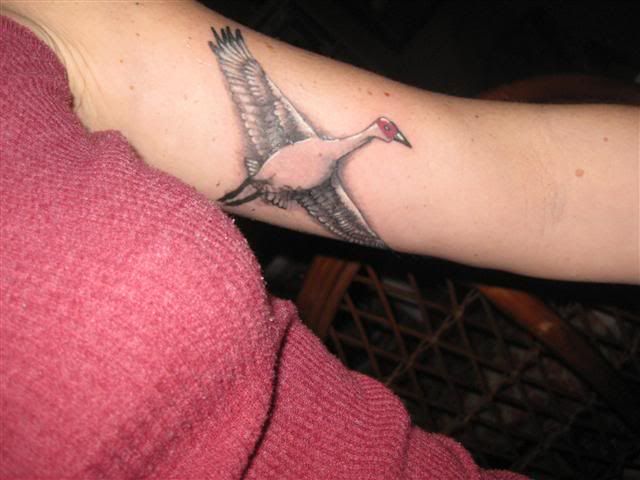 3. How do other un tattooed moms or parents react to your tattoos?
I've never been told anything negative directly to my face, however, I once worked in a snooty tearoom and as I was leaving a table of mine, I heard a lady say something along the lines of, "She could be so pretty if she didn't have all those tattoos!" (Which in retrospect is kind of funny because I only have a couple that are visible.)
4.Do you ever try to hide your tattoos from your child's teachers,friends parents, etc?
I'll wear sleeves to church or when I am doing something with my side of the family, but I don't hide them from my husband's family, or when I go anywhere else.
5.Do you have any tattoos dedicated to your children?If not do you plan on getting any?
I do! I have a mommy and baby owl that was taken from Gage's favorite book when he was a baby. I don't have a tattoo for Owsley yet. But I'm sure to get one in the future!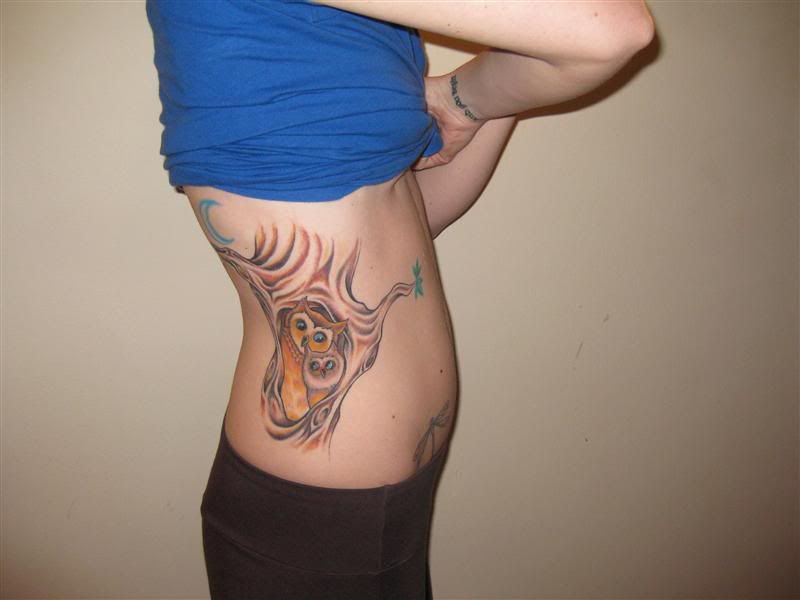 6. How will you react if and when your children start getting tattoos?
As long as they are of age, I really don't have a problem with it. I just hope that they think about what they want before rushing into anything. I was 18 when I got my first tattoo, and I basically did it out of rebellion. Now I'm stuck with a really crappy nautical star tramp stamp. I only have seven tattoos, and three of them were when I was 18 and thought I was a total badass. So yeah, I hope my kids put a little more thought into it than I did!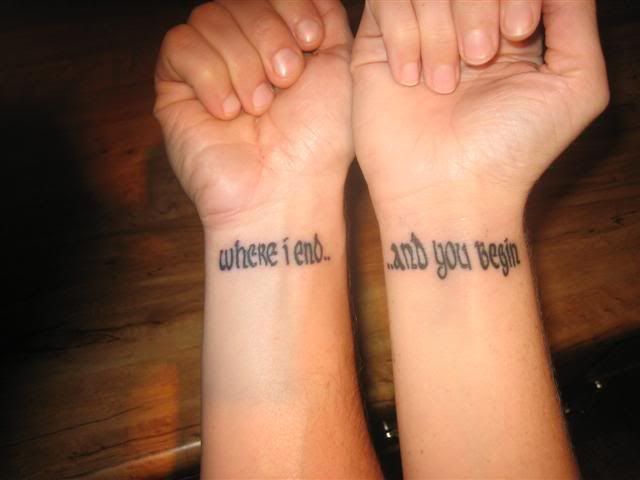 7.How did you feel about your tattoos during and after pregnancy?(I have stomach tattoos so that was interesting to say the least!)
A ear of my Grateful Dead bear and a wing of my dragonfly grew to pretty extreme measures during both of my pregnancies, but remarkably enough, they both shrunk back to original size. I was pretty surprised.
8. Do you think your tattoos effect your child's social schedule (for instance Sam's mom doesn't really want Sam to play with your child because of your tattoos) Have you ever faced this type of challenge as a tattooed mom?
I haven't really run into this problem yet.
9. Is there anything you would like to let those un tattooed parents that may judge you as a tattooed mom?
Play nice! It's ok if you don't like my tattoos. I may not like your blouse or your haircut, but I keep it to myself!
10. Do you plan on getting more tattoos?
Yes, definitely! It's basically just a matter of finances. I've got many more ideas of what I want. For the past few years tattoos have been a treat for myself every February, but since I'm breastfeeding right now I'm going to hold off until Owsley is weened.
My artists:
John Hall, The Ink Spot
Warren Cain, Hot Rod Tattoo
Reggie Morris, Gulf Shores, AL
I fell that I can relate to a lot of what Deanna said in her interview. I hope you enjoyed yet another lovely tattooed mommy! and as always:
If you would like to be featured send me an email @ akornelson@gmail.com!
xoxo