Yay! I'm so excited to introduce this new feature on the Little A.Korn Blog!
As a mommy who adds to her tattoo collection more and more I find myself facing challenges in fitting in with the other moms at Zoe and Amelie's schools ,at church,and just while being out and about in our (small) town.So, I decided to start this feature to connect you all with moms you already may know via the blog world and some close friends of mine as well. All, are ladies who have tattoos (some a lot, some a few) and are all AWESOME moms I truly admire.
I originally thought I would be the first mom on this feature, but I held out for the one mama who's tattoos I LOVE and who all in all is a lovely ("unfiltered" )mommy blogger, I truly admire.
Ok enough small talk let's get to the feature! Heres my very first interview with Jessica of
The Doe or The Deer
Here's our interview,enjoy!
Name: Jessica Youngsma
# of children-2
blog-
The Doe or The Deer
"Hey ya'll! I'm Jess of
The Doe or The Deer
. I'm an unfiltered mommyblogger who covers any and all topics, ranging anywhere from fashion, photography, politics, art, postpartum depression, religion and just everyday life. I'm married to my ever so supportive husband, Derek, who plays drums in the metalcore band Bleeding Through. We have two wild and gorgeous kids, who are only 18 months apart. Zoe Jaimes, 2 years old and Ezra Phoenix, 11 months old. Oh and our 5 year old Boston Terrier. We've got our hands full."
1. What do your children have to say about your tattoos?
Zoe, loves to point out all the different animals on me. Ezra, well... He doesn't say much, he's still a baby blob.
(how stinkin' CUTE are they?!)
2. Since we're on the subject of moms and tattoos,what does your mom have to say about your tattoos?
I was disowned for a few years, because she had discovered them though a friend of hers who found me in several tattoo magazines. I had hid them from my mom since I was 17 and she had never actually "seen" them until 6 years ago when I showed up at her door in a bikini. Shock and awe was the only way to cure her disgust. And now? She doesn't even notice them anymore.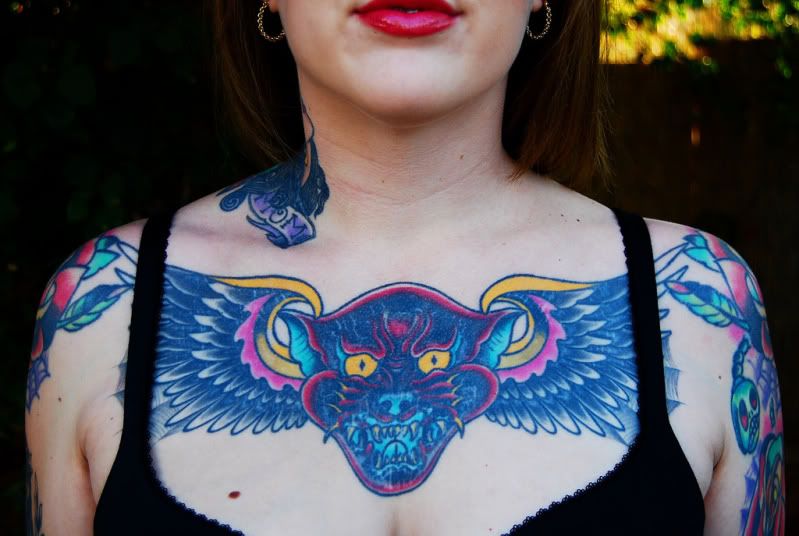 3. How do other un tattooed moms or parents react to your tattoos?
Anyone 40 years old and under seem to have no problem with me. In fact they always want to talk about what they "want to get". Not to say that there isn't some moms who give me the side eye when they first meet me, but once they get to having a conversation with me, they realize I'm no different than any other mommies.
4.Do you ever try to hide your tattoos from your child's teachers,friends parents, etc?
The only time I ever try to hide them is at the grocery store. Just so I can avoid any conversations with bro's about my "sick tatz". I just want to get my shopping done, dude.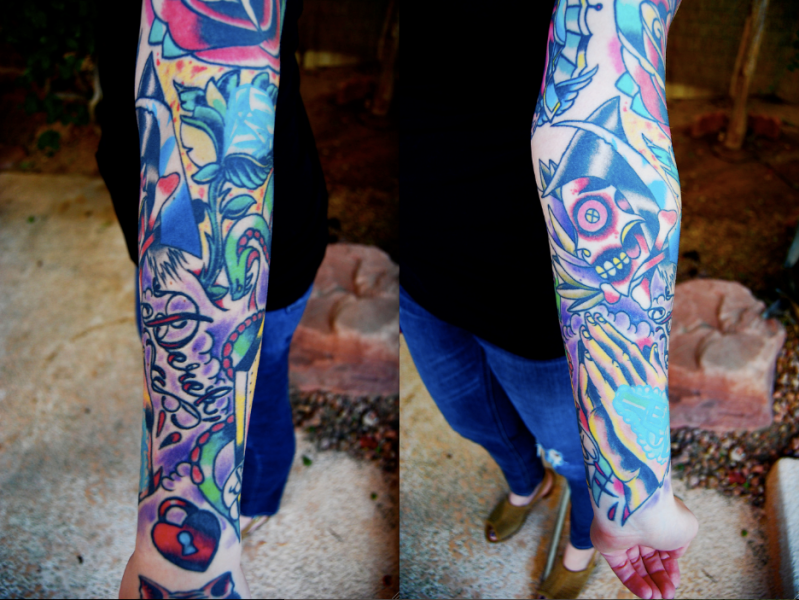 5.Do you have any tattoos dedicated to your children?If not do you plan on getting any?
Not yet!!! But I have plans to... I'm not gonna say what though, because I don't want anyone to snatch up my steez.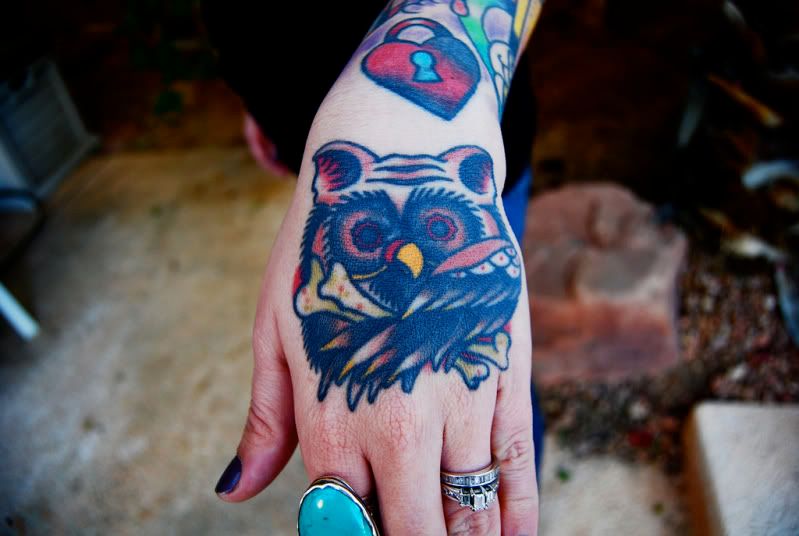 6. How will you react if and when your children start getting tattoos?
Cry.
7.How did you feel about your tattoos during and after pregnancy?(I have stomach tattoos so that was interesting to say the least!)
Nothing ever changed with the looks of my tattoos during or after pregnancy, but I sure got the stank eye from old ladies when walking around pregnant. Like they couldn't believe I was procreating, because I was obviously a "white trash welfare case". Trust me, they got the stank eye right back at them. ;)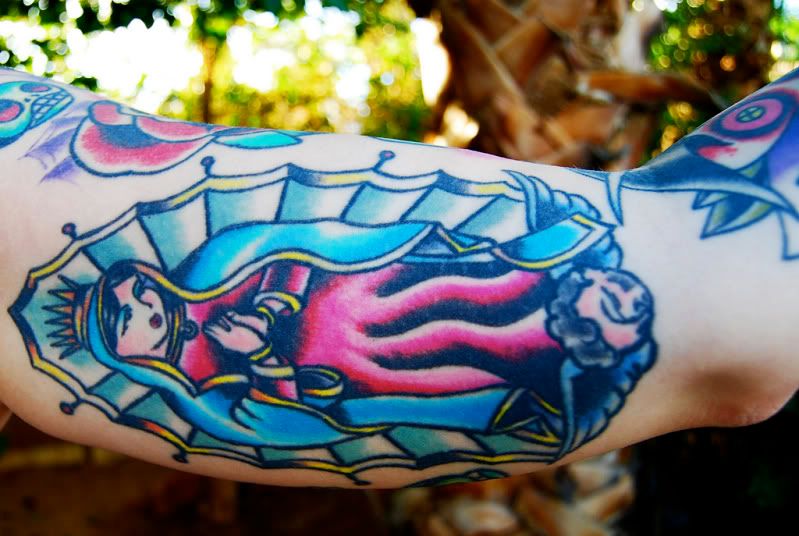 8. Do you think your tattoos effect your child's social schedule (for instance Sam's mom doesn't really want Sam to play with your child because of your tattoos) Have you ever faced this type of challenge as a tattooed mom?
Unfortunately, I don't get a lot of offers for playdates from other mommies I know and I don't think it has much to do with my tattoos either. I need some mommy friends, with a good sense of dry, sarcastic humor... Anyone wanna hangout?
9. Is there anything you would like to let those un tattooed parents that may judge you as a tattooed mom?
I bake some seriously delicious red velvet cupcakes. PLEASE be my friend. (<-Too desperate?)
10. Do you plan on getting more tattoos?
Like duh! Totally. I've got another arm to finish, 2 legs to get started on and the other side of my neck left to do. Plans, BIG plans.
My artists:
Nick Vargas (California)
Dan Smith (California/New Zealand)
Los "Life Ruiner" Ocegunda (California)
Jim Minor (California)
Brent Vann (California)
Marc Jackson (California)
Kayle LeoGrande (California)
"Old School" Alex (New Jersey)
Nick Phillips (Utah)
Jeff Cooper (California)
Oh and myself...I did the crap tattoo on ankle. And no, I don't tattoo professionally.
Thank you
SO
much Jessica for the interview and sharing with us all your amazing work and what your life as a tattooed mommy is like! (and I'm sure you will have many volunteers to hang with ya! especially if cupcakes are involved!)
If you are a tattooed mommy and would like to be featured on Little A.korn's "Mommy Has Tattoos Mondays" please send an email to akornelson@gmail.com with the header "tattooed mom feature"
I hope you all enjoyed Jessica's interview and TRULY
BEAUTIFUL
work!
xoxo