Tomorrow night the Mr. and I are going to see a fave band by the name of cursive!
I'm sure you know them,if not I'll include some videos for your viewing and listening pleasure:
Le sigh...such GREAT music !!
We are mucho excited about my mom and dad letting the little bits spend the night at their house,so we can go out and dance freely to live music and at some point stuff our faces with Indian food. Since the show is tomorrow night I don't really have any "what we wore pictures" yet...(duh) So I'll show you guys what we wore a month or so ago on our date night.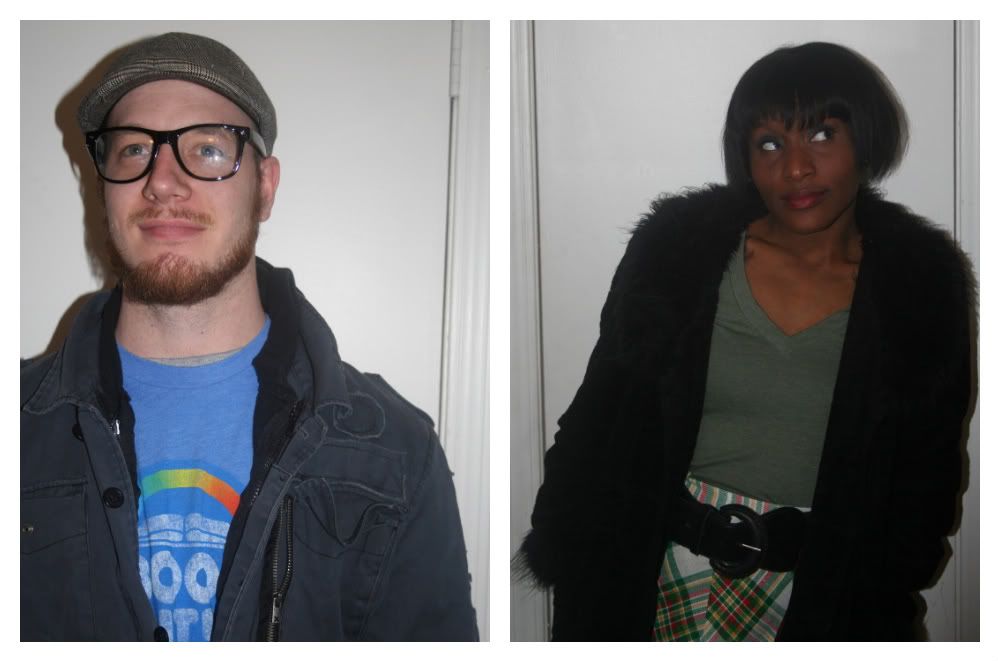 on Kevin:
jacket-have no clue it was a gift i got him a long time ago
shirt-urban outifitters
hat-target
pants-macys
shoes puma
glasses-urban
on me:
jacket-i got it when i was 17 at Gadzooks (remember that store?!)
boyfriend v neck tee-target
skirt-thrifted
belt-tj maxx
tights-target
boots-wanted
As most of you moms and dads know, date night are pretty huge and very important.Sometimes however on said date nights, us poor moms and dads don't exactly know what to do sans kiddos. Like for instance the night we wore the before pictured outfits.We went out to eat(after we volunteered to pick my parents and the girls dinner up) then we went home thinking we would watch some tv before heading out for slices of pie and coffee...however, "tired parent syndrome" set in and we...fell asleep?! How
LAME
is that? Ha! So needless to say, we are very excited to see cursive tomorrow night but I have no idea how we will fare in our old element of "the show" Wish us luck that we don't fall asleep at mid performance of the openers! I'm sure the majority of the night will eb spent talking about cute stuff that Zoe and Amelie did,and I'm sure at some point we will end up
somewhere
that has
something
I just
have
to get them. But all in all it will be nice not to have to go home and give baths,read stories and have bed time drama like every other night.I'm not sure when we will get to go out on another date night after tomorrow night, so I will try my very best to have
FUN
! (you have my "tired parent syndrome" promise on that!
xoxo