A few weeks ago, Zoe, Amelie and I got a chance to play with a cheap little toy I picked up at target the other day.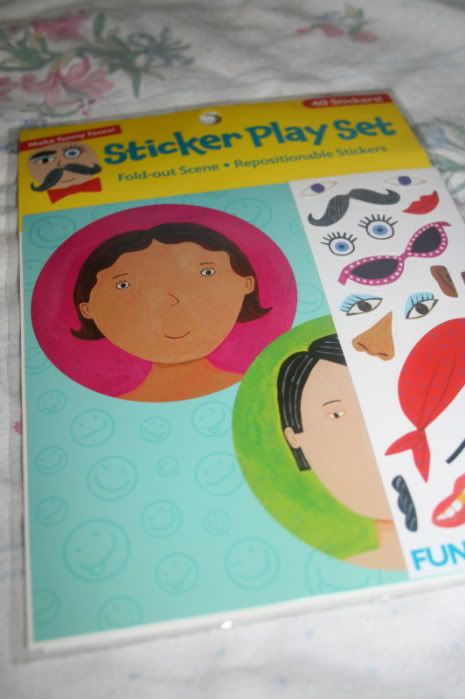 Silly faces sticker set! It was a whoopin $2.99! And the stickers can be moved around again and again so basically it's the toy that keeps on a-givin'!
YAY!
Here's what we had to work with...
I really liked this toy because it allowed for imaginable play for Zoe and was easy enough for Amelie to manipulate and work with her hand coordination with moving the stickers to different places.
Having children that are at different age levels and trying to find toys they both can play with can be a bit challenging, so I was very happy to find something they could both play with alone or together with very little help from me.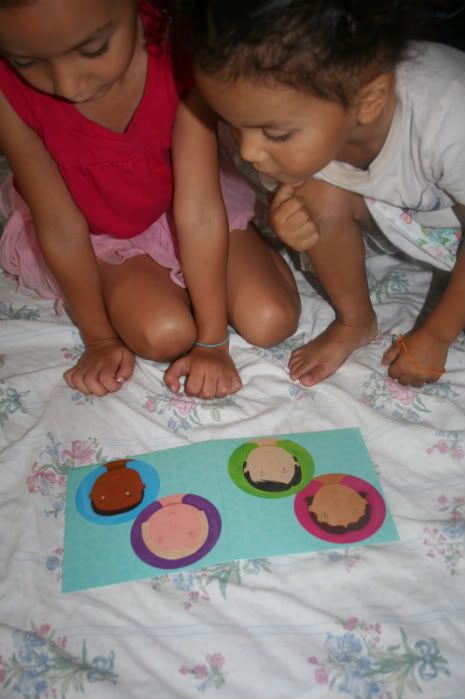 I have such a great time playing with my little princesses, every little thing we do together becomes purely magic. And with me becoming more and more busy with things outside of the house, any time I get to spend with them is truly golden. I do honestly miss the days of my life as a SAHM, but now that I work, go to school, etc., I feel that I cherish the times I get to spend with Zoe and Amelie even more. So, simple toys like this mean the works to us, and hours of fun stories we can come up with for the little people they create!
But anything that makes these two faces happy is well worth it!
Especially when they make silly faces like these:
I've said this so many times on here that I don't think it takes millions of dollars to make kids happy,the simple act of spending time with them can mean the world to toddlers and small children.:)
xoxo