Kevin and I like to consider ourselves fresh, young, progressive, somewhat fun parents. I am 26 and kevin (just turned 28 today HAPPY B-DAY KEVY!!!) So we're young parents and we like to still have fun.
We also try to raise Zoe and Amelie in a fun, creative ,environment that fosters creativity and imagination. One way we try to do so is through the sense of sound/ hearing.
Kevin and I have a great love for classics such as RUN-DMC, At the Drive In, the breeders, The beastie Boys,The Pixies, etc. Kevin has deep roots in hip hop and I'm an indie girl to the core.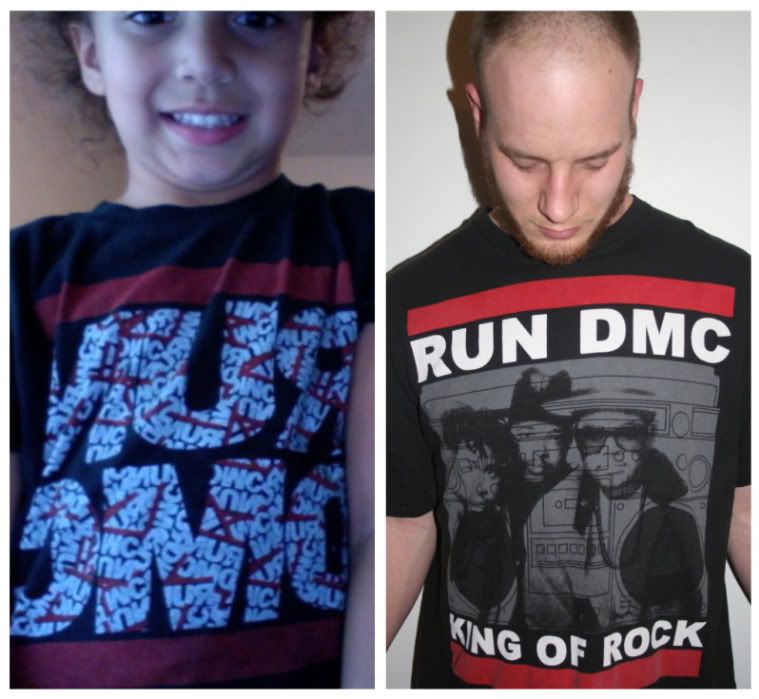 (hmm Amelie needs a Run-DMC shirt too lol)
So imagine our surprise when we stumbled upon "kindie rock" and "Kid Hop"
DEFINITION:
"It's called "Kindie Rock," and unlike the Barney and Doodlebops you're used to, this style of music is a little more rock and roll. And... more familiar to parents.

Basically, Kindie Rock combines well-known tunes from contemporary music with kid-centric lyrics that are imaginative and amusing." -susan kim-

We like to think of "kindie rock" and "kid hop" as music progressive parents and their offspring can both enjoy. (Because face it Barney,the doodlebops,and the (shudder) the wiggles are just NOT where its at!
A favorite we have stumbled upon is "Secret Agent 23 Skiddo" !!! I read about him in Cookie Magazine (RIP) a few years ago,I never really payed much more attention to him until l heard one of his songs on XM satellite radio.
Secret Agent 23 Skiddo is a rapper and dad (to the most adorable little girl Saki.) The Skiddo crew is mom,dad,and saki.They all rock the mic together in a fun, family friendly way. I know some people may find this a bit lame, but I find it to be a nice balance between what we once were,and who we've become..parents. And, I'm not telling you to throw out your vinyl collection and replace it with all kid friendly jams, but it's a nice added extra.
True
NOTHING
will ever top the kings of rock RUN-DMC. The wave of kindie-rock and kid-hop will be neat to throw into our kid friendly mixes we give to the girls friends for b-day presents!
Here's one of our favorite secret agent vids...
You can read more about the Skiddo crew at their website...
click here!
Hope you enjoy!!!
xoxo