So we live in a small town,there's not much to do with kids that isn't the park library, or at a church,so I feel as though Im forever on the hunt for fun,different things for us to do with the girls.We don't have a legit art museum here, just a small gallery that showcases local artists (I had my sophomore year art show at the same gallery actually :) So Monday, I took the girls to "The Ned" to see some local artist paintings:)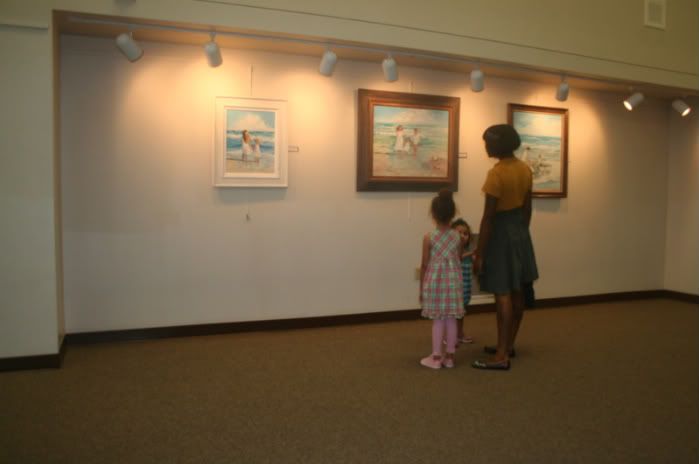 Zoe REALLY enjoyed it! Poor Amelie on the other hand just woke up from a car nap when we got there so she wasn't as thrilled.But after awhile she warmed up to the fun colors and wanted to get a closer look.
The entire place is not very big at all, and it only took a small time to see all the paintings (we went around twice).But we did go get ice cream after and Kevin asked Zoe what her favorite thing was the ice cream or going to the art museum and she happily answered the art museum! (Score!)
I think the exhibits are changed monthly, so we may make this a normal stop on our downtown adventures.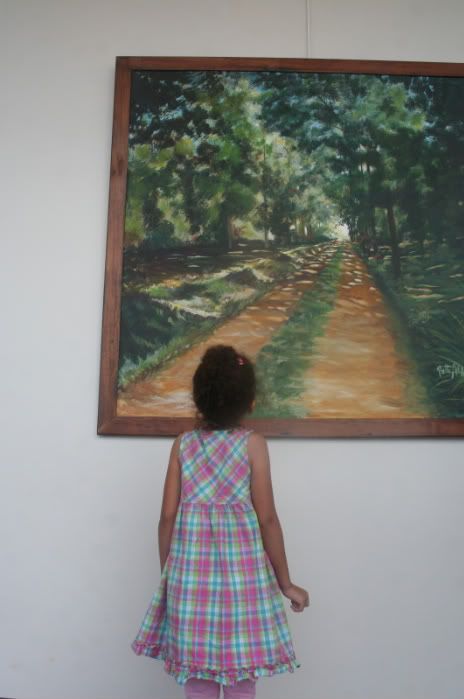 I think it's unfair to complain about your town not having anything to do.I feel you have to hunt down anything you can for a good time! AND if you look hard enough you can even find awesome FREE stuff to do! I have stumbled upon SO any neat things to do with kids that aren't super boring and don't cost much at all.Im so happy the girls enjoyed this experience, as I can clearly remember going to the art museum in Berkeley with my parents when I was little and being so thrilled at all the colors and creativity surrounding me.
I hope to do the same for Zoe and Amelie and let art rule their little hearts just as it does mine:)
xoxo