It is
COLD
in our little town!so I will share with you all one of my SOUPER (ha!) easy soup recipes!
Chicken Tortilla Soup
what you will need...
2 to 3 chicken breasts
1 (15 ounce) can whole kernel corn, drained
1 (14.5 ounce) can chicken broth
1 (15 ounce) can black beans
1 (10 ounce) can diced tomatoes with green chile peppers, drained
1(10 ounce can of diced tomatoes)(undrained)
1 cup brown rice
*sour cream
*shredded cheese
*salsa
*tortilla chips
1. put all your canned items into a BIG soup pot,begin to heat on low.
2.start your brown rice in a separate pot.
3.clean you chicken breasts and season them with salt,pepper,and garlic powder
4.add a little olive oil to your pan and begin cooking chicken breasts.
5.once the chicken breasts are finished cooking,cut them into cubes or shred them.
6. add chicken and rice to the soup pot cook until heated.
7.serve in pretty bowls,add salsa,sour cream,or cheese on top,serve with tortilla chips(or you can crumble the chips on top of the soup)
mmmmmm yummy!!!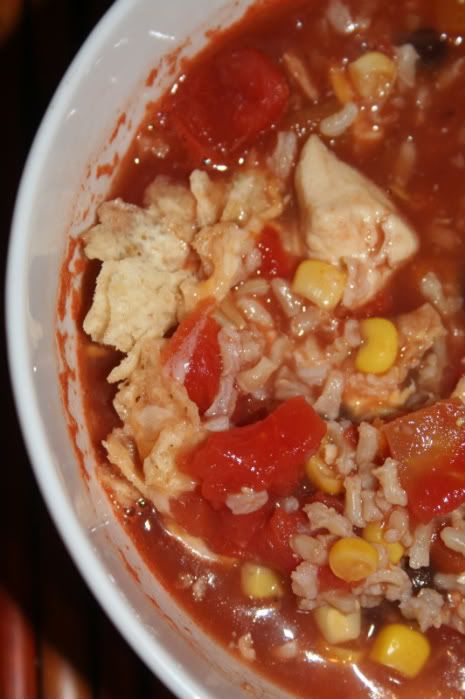 happy cooking!
oh and wait another fave christmas song :)
(yes i know the Vandals did it first but i love no doubt !!!) ;) plus zoe and amelie like to yell "Oi Oi !!!" HA!!!