Yes folks, it's that time again! Another lovely tattooed mama for you to meet!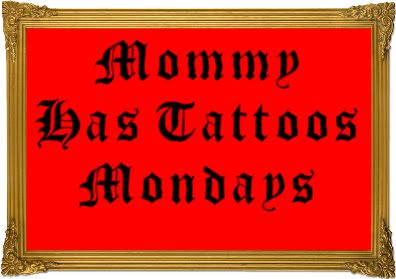 The lovely mommy I'm featuring today is Kelly!
Here's Kelly's interview:
Intro: My name is Kelly M of
This Rock Star Life
I live in Northern California with my husband and our 2 kids. The kiddos keep me very busy, especially when my husband is on tour with his band, All Shall Perish. I am also a photographer, specializing in maternity, baby and kids. Most recently I started a website dedicated to my Birth Photography
Birth By Kelly
which is where my true passion lies.
Name: Kelly M
# of children you have and their names:
I have two little lovies: Greyson - 4 years 7months & WinterRose - 10 months
1. What do your children have to say about your tattoos?
Greyson seems to like them. Of the tattoo inside my lip he says, "I don't want letters in my mouth, that's too crazy."
2. Since we're on the subject of moms and tattoos,what does your mom have to say about your tattoos
My mom has tattoos herself and actually took me to get my first one. She likes them and had more of a problem when I went through my piercing phase.
3. How do other un tattooed moms or parents react to your tattoos?
I have never had an issue with someone having a problem with them. They either don't have a problem, are too polite for side eyes/comments or I am just too naive to notice.
4.Do you ever try to hide your tattoos from your child's teachers,friends parents, etc?
No, not at all. I would have to wear long sleeves and a turtle neck, that is not going to happen.
5.Do you have any tattoos dedicated to your children?If not do you plan on getting any?
Not yet, but I do hope to get them started in the near future.
6. How will you react if and when your children start getting tattoos?
I think I would be ok with it, but I would encourage them to think long and hard about the tattoos that they want. I love all of my tattoos, but there are a couple I wish I could change a bit :( (example: When I had my snow white tattoo done, I had my artist work around my existing tattoo, I wish I had had it covered instead.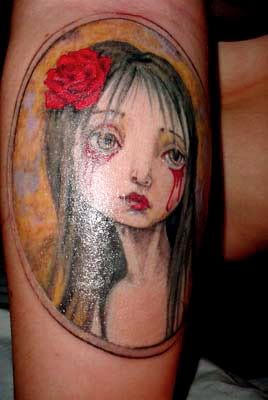 7.How did you feel about your tattoos during and after pregnancy?(I have stomach tattoos so that was interesting to say the least!)
I don't have any tattoos on my torso, so that wasn't an issue. I still loved my tattoos regardless, but I did worry that people might think I was trashy looking or make assumptions about me. I suppose they could make assumptions even if I wasn't pregnant, but I cared more while pregnant.
8. Do you think your tattoos effect your child's social schedule (for instance Sam's mom doesn't really want Sam to play with your child because of your tattoos) Have you ever faced this type of challenge as a tattooed mom?
Thankfully, I haven't. I have an amazing group of mommy friends. We all come from different backgrounds, are different races, different religions, different socio-economic status. There are a few moms that have small tattoos but I am definitely the most heavily tattooed. The commonality of our children is what brought us all together but we have found that we are the same in so many more ways than we are different. I am so incredibly thankful for their friendships
9. Is there anything you would like to let those un tattooed parents that may judge you as a tattooed mom know?
Im really awesome and so are my kids, so you're missin out!
10. Do you plan on getting more tattoos?
YES! I want to add to my stars to "soften" them up. I want to work on both sides of my neck and fill up both arms. I wish that I had started at the top of my arm rather than the bottom, as it now feels very unfinished! Hopefully I'll be able to work on some of this before I am 40 ;)
Snow White and Rose42 by Natasha Erickson @ Flying Dutchman Tattoo in Antioch California
Other tattoos by Jeremy - Who has since retired.
Thank you SO much Kelly for taking the time to be featured here ! I'm in love with your bay area tattoo (I was made and born in Berkeley! ) I hope everyone enjoys Kelly's interview and art!
And yes I'm still accepting mommy's to be featured! email me at akornelson@gmail.com if you would like to be a featured tattooed mommy!
xoxo