So I know I've been blogging MIA for a while now!:( School, is kicking my hiney, and as i type this, my throat is raw and my nose is runny (Oh sickness has found me:( However, I want to try to do a few updates today to let you lovelies know what's been going on in my little world...(if my computer will cooperate...So to ease back into it all I'll start off with a fashion update :)
I'm really happy with the direction I've been going with my fashion lately, since money hasn't been flowing , I've been mixing old, with somewhat new to get different looks and frequenting the thrift store to get my "new" clothes fixes. I do however plan on getting some Fall items soon and I am stoked about the CHEAP purchase I made today: two pair of suede ankle boots, and three pair of tights for
$15.77
!!!! Oh the joys of working in retail and reaping the clearance benefits!
Ok the first outfit is the perfect example of mixing old with some what new. For a fresh new look! I wore this Sunday to my parents house stuff my face with BBQ!:)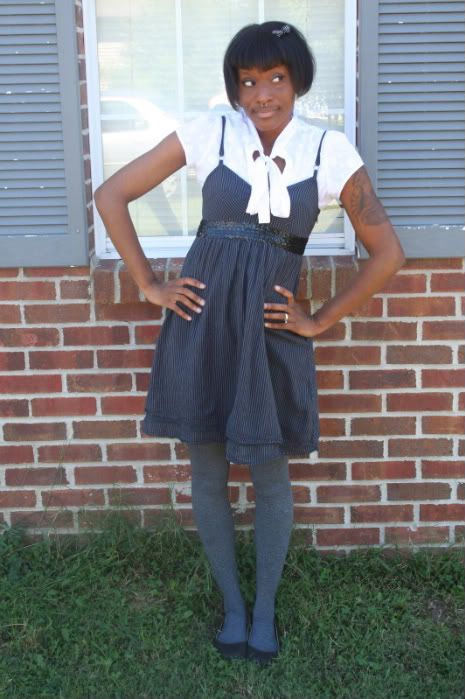 details:
dress-converse for target
shirt-gift
belt-rainbow (kids belt)
tights-tj maxx
flats-target
bow-idk
The next outfit has been a big hit on my flickr and I got lots of compliments on it the day I wore it to work.It was a fun outfit to wear and most of the stuff is from target.
details:
headband-target
cardigan-target
dress-target
tights-tj maxx
flats-target
Ok, this outfit is a thrifting gem! I got the skirt for like $2!!! I love the modern simplicity of the outfit.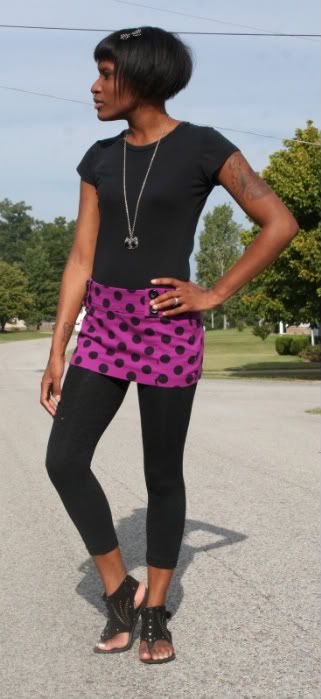 where its all from:
shirt-express
necklace-hot topic
skirt-thrifted
leggings-macys
gladiators-belk
This outfit was a HUGE change for me (ie no skirt or dress) I wore it to school on an off day to get work done in illustrator for my design class. I feel like this look is actually a bit sexy, rather than the usual cute look I go for. I must say I really liked it and have plans to wear many more oversized altered tees with leggings and motorcycle boots for fall.
run down:
shirt-my husbands (altered)
belt-kohls
leggings-macys
gladiators-belk
This outfit was another thrift store surprise. I say surprise because when I bought it I thought it was a skirt, but low and behold it was very loose shorts! But I still enjoyed them. :)
close up of the accessories:
where its all from:
tank-rainbow
necklace-hot topic
capri/pants/thingie-thrifted
gladiators-belk
belt-thrifted
bag-converse
The last one is what I wore to school yesterday.I've had this dress for about a month now, but wanted to have the right weather to wear it in, so yesterday seemed like the perfect day .I really like this dress because i can see pairing it with gray suede boots,a cardigan, etc, when it gets colder!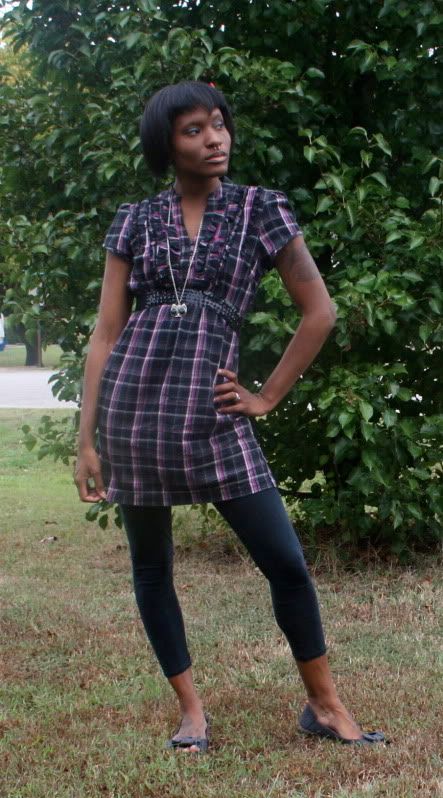 info:
dress-charlotte russe
belt-rainbow(kids belt)
necklace-hot topic
leggings-target
flats-macys
Okie dokie! Hope you enjoy!
xoxo