Ok, this is a very special post for me. I mentioned awhile ago about my new job working at a tattoo shop.So I thought i'd introduce you to my new friends :) Before I begin this post I want to explain my background in body modification so that you can understand the importance of this job to me.
When I was 18 yeasr old I wandered unknowingly into a tattoo shop in memphis, tennessee with my friend to get our belly buttons pierced.The piercer was mean and no one was particularly friendly. Fast forward a year, I was 19 years old and I started working in retail and met Nicole. The funniest,prettiest,kindest lady, you'll ever meet, Nicole owned her own tattoo shop and was the head piercer at the shop. After a few months I decided to get my first piercing from Nicole (my industrial) MANY piercings followed. In the time I was working with Nicole we became very good friends and Nicole began teaching me things here and there about the world of body modification.After awhile Nicole stopped working at the retail store and I still managed to go to her tattoo shop almost every day . Nicole takes pride in doing things PROPERLY, she is a member of the APP and she is an amazing piercer and now tattoo artist.
A month a or so ago Nicole sent me a text message asking me if I wanted to work at a tattoo shop (this wasn't the first time she wanted me to come work for her) But this time I truly felt I was ready to learn more about this amazing world which I have been fascinated with since I was 18. I jumped at the chance to work at the new shop Nicole is working at...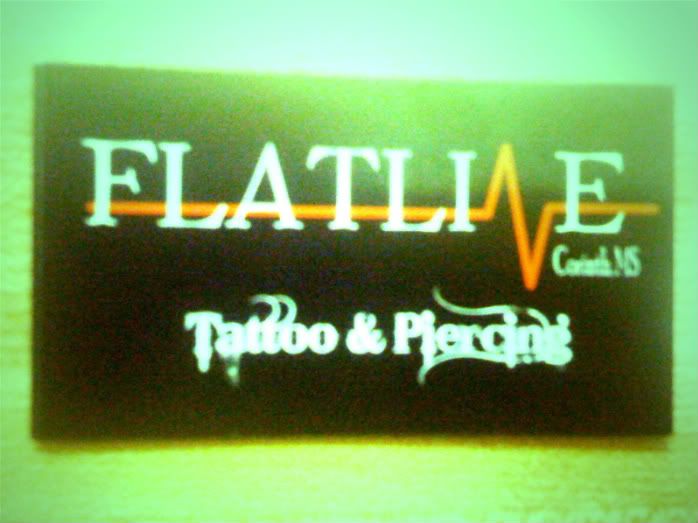 Flatline tattoo is located in Corinth Mississippi (and yes I drive all the way from Tennessee to work there...it's a very special place)
The owner Of Flatline Tattoo is Jonathan Burdine. Jonathan ("JBurd) is an AMAZING artist (he tattooed the anchors on my feet) JBurd can pull of any style of tattooing with pure perfection.He is a very kind hearted person and I feel HONORED to be able to work at his shop.
JBurd is simply hilarious and he is always cracking me up with his "voices" and his love of sugar cookies teehee! Working at Flatline and being in and out of Nicole's old shop I have learned so much. I know the HIGH standard of which Tattoo shops need to be kept. Getting a tattoo or piercing is a life changing experience and every person deserves to have these modificationss done in a clean peaceful environment. I feel that Flatline is just that place. I have never come in and felt out of place, or un welcomed. Now that I am working there, it is my goal to make all customers feel the same way!
Ok now let me introduce you to everyone:
here's one more cool pic of JBurd getting some work done on my friend Eric.JBud was doing a cover up on Erics neck it turned out BEAUTIFUL!!!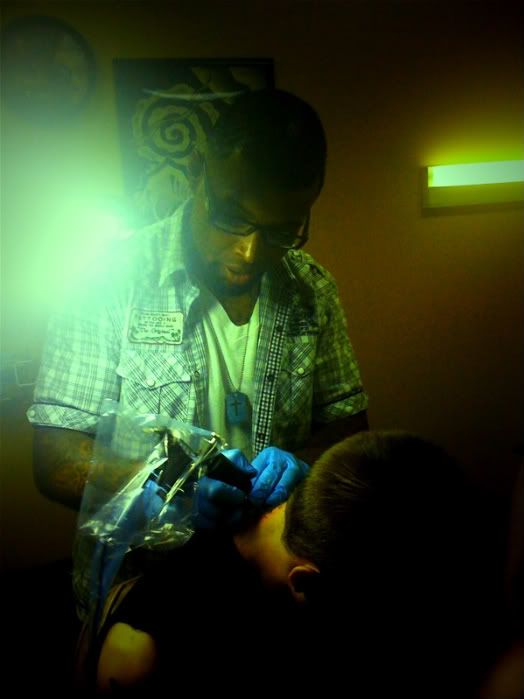 And here's Nicole (and Scott ) he doesn't work at the shop,but works at the computer shop next door,but he's a cool guy and is in and out of the shop throughout the day :)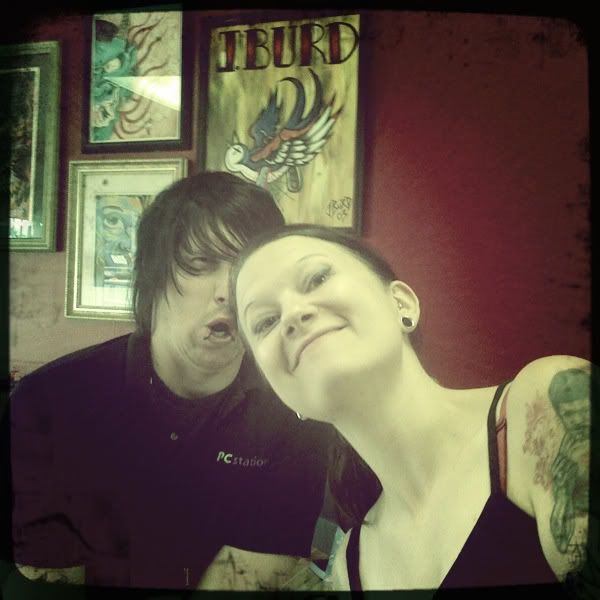 And lastly there's Shana, she works up front and all around with me and is also learning more about tattooing from JBurd.
That's the little flatline family i've been able to work with these past few weeks:) Now heres some cool pics I took around the shop:)
Ink...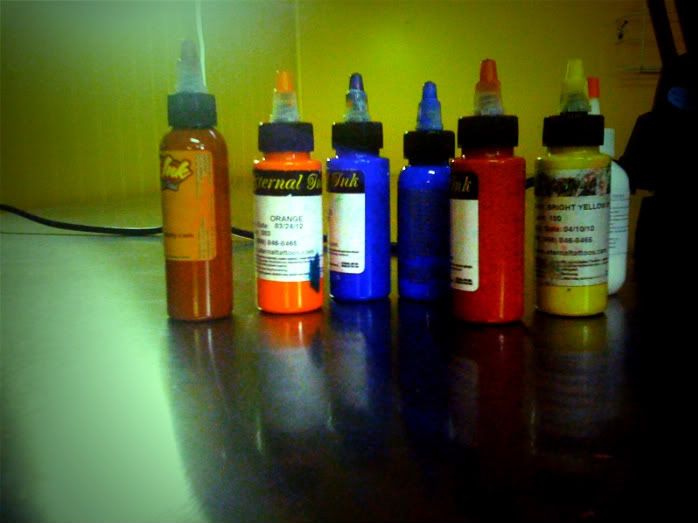 Neat stuff in the front of the shop :)
Tools of the trade, all ready to be cleaned up.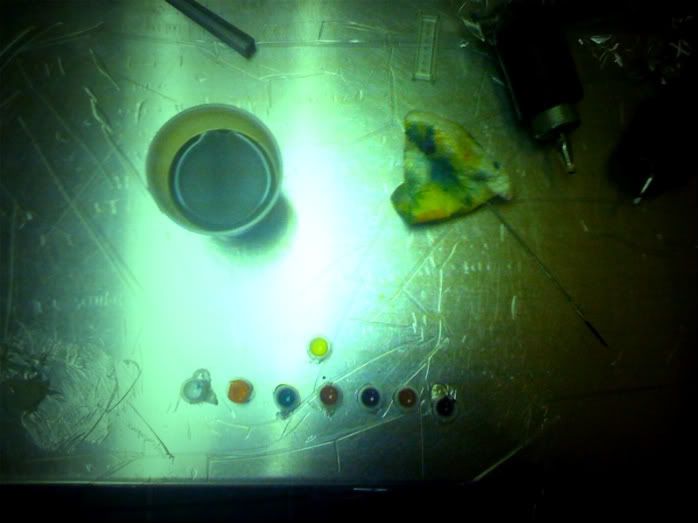 Tattoo flash (I am determined to find a new home for this though lol)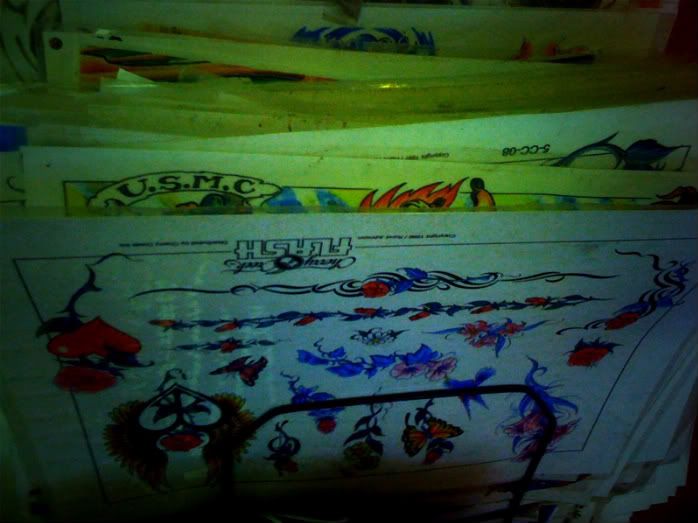 Up close and personal needle to skin creating art, that lasts forever...
and a few more...
JBurd and Nicole's sketches..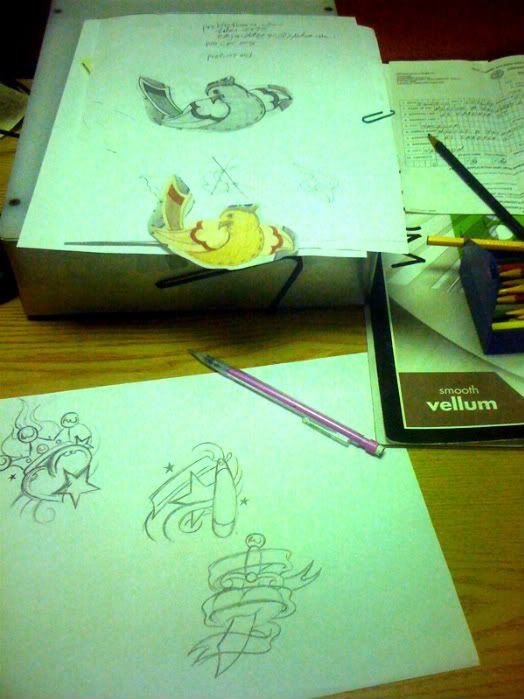 their finished work..
JBurds cover up he did for Eric (sooo pretty!!)
One of Nicole's birds she did (cute!!)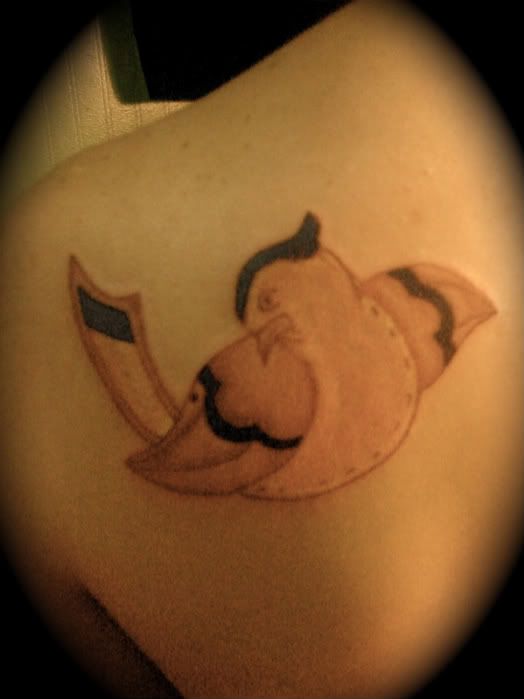 I hope you enjoyed this post! If you want top see some more work by JBurd and Nicole check out the website....
CLICK HERE FOR THE FLATLINE WEBSITE!!!!!!
xoxo