Saturday morning we packed all four of us into the car and headed downtown to our local farmers market.
All the smells,colors,sights,and sounds of the farmers market always amaze me at every visit!
There are always so many wonderful smells at the market,fresh fruits being cut open for people to sample, coffee being brewed from the local coffee shop that sets up at the market to sell,vendors making various foods to sell,stopping to smell the flowers...the list of glorious market smells, goes on and on!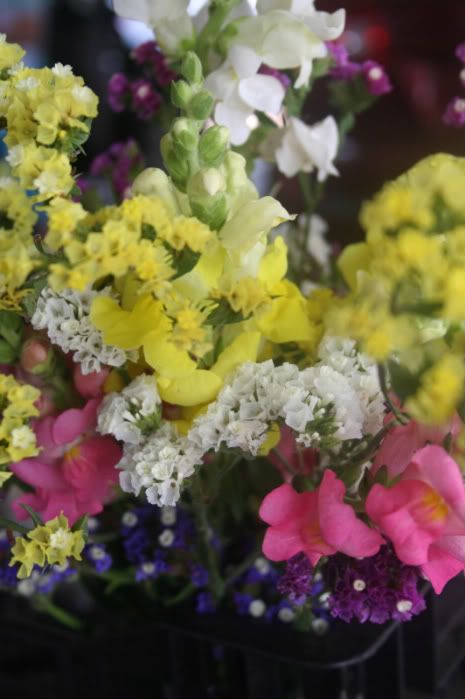 But I must say, I think my favorite market smell is indeed, the smell of fresh flowers!:)Saturday we went home with one pretty bunch of fresh flowers!
The colors and sights of the market are endless, from the colors of the fruits,veggies,and flowers, the craft people setting up their creations,to all the different shades of people everywhere,the farmers market is an endless world of brilliant, glorious, never ending, color!
We took home some of these irresistible squash!! (How pretty are they?!)
Zoe taking in the perfect sights of the market.:)
After we collected lots of good things to eat,we went inside and found more vendors selling beautiful rainbows of jewelry.
Another favorite spot of ours at the farmers market is the amish market. They have all sorts of goodies to buy.Everything from breads,to candies,to fresh squeezed honey. We settled on a bag of peppermints.
All in all we had a good trip to the farmers market! And left with happy faces and a HUGE bag full of fresh,locally grown produce!