Ok so EVERY year at christmas time,my little craft space goes from cute and quaint to godzilla land!!!! AHHHH!
example #1:
an over all view of the chaos (and zoe) ...really?!?!what the heck is going on here?!?!? random presents laying about,wrapping paper ready to attack..
NO
space what so ever to put
anything
else(but im sure I will pile something up there !!!) Tu tu and bow orders hung sloppily on the inspiration bunting....good grief...but wait!! There's
MORE
!!!
example #2:
REALLY?!?!? wreath makign supplies on the floor,and open empty ginger bread kit house (that Zoe and Amelie decided to put some sort of stickers in) tulle in a bag,wrapping paper craziness,foot stool from the living room because there is no room no that there is a huge christmas tree in its place....good grief!!
I will attempt to clean this space up a bit today,and start making some Christmas presents,a tu tu , and the center pieces for Zoe's party tomorrow....ugh!!! I remember last year on Christmas day,we were talking to Kevins grandmother on the phone ,she said something that could only touch a crafters heart, "oh I remember when the boys were young our house looked like a factory from Halloween until Christmas , with all the projects i was working on!" ....le sigh, a woman after my own heart!!! Seriously, we ALL know that right?!? It's SOOO true! After she told me that I felt a lovely crafter connection with her!!
and lastly example # 3: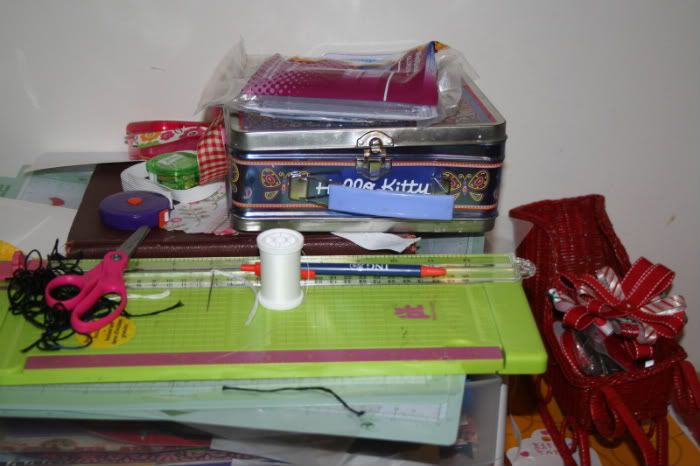 hot glue sticks,bows ready for clips that i STILL need to give to my mom to take to work,and no those tiny little scissors or not mine,yes thats right they belong to zoe,she decided to hide them there from amelie!? seriously this mess is out of control....good bye! i need to go tidy up...and make another crafty mess ;)